You can access our site through www.tapesxx.com. Please bookmark site. Press CTRL + D .Thank you!
You can access our site through www.tapesxx.com Please bookmark site. Thank you!

Anal With The Sneaky, Horny Wife / Katalina Kyle, Alex Legend / Aug 3, 2022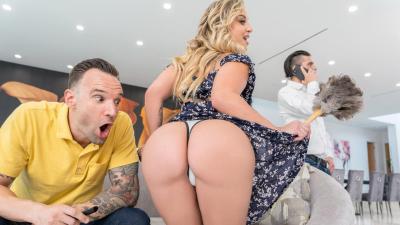 Horny housewife Katalina Kyle would rather fuck than clean, and her rigid husband won't even consider fucking her ass, even though he's anal when it comes to keeping a spotless home. When he invites his friend, Alex Legend, over to hang out, Katalina seizes the opportunity to tease Alex with her juicy ass, making her intentions more than clear when she sneakily drops her thong on Alex's lap. Turns out Alex is more than ready to fuck, so he follows Katalina to the kitchen where sneaky fucking takes place right under Katalina's husband's nose. A narrow escape leads to a meet up in the bedroom, where Katalina is ready and primed for anal with her butt plug beckoning Alex as soon as he enters. From there, Katalina takes every inch of Alex's huge cock in her thick ass, all while keeping up appearances with her oblivious husband.