You can access our site through www.tapesxx.com. Please bookmark site. Press CTRL + D .Thank you!
You can access our site through www.tapesxx.com Please bookmark site. Thank you!

BrazziBots: Part 2 / Abigail Mac, Nicolette Shea, Alex Legend / March 8, 2019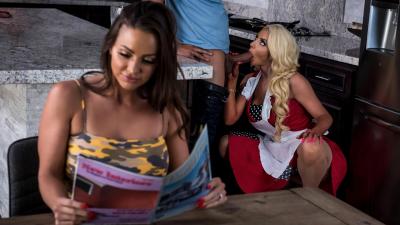 Alex Legend surprises his wife Abigail Mac with a special gift; Brazzibot Nicolette Shea! Abigail's less than pleased he blew so much money on a robot; that is until Nicolette starts making dinner. As Nicolette cooks, Abigail relaxes and reads a magazine. Little does she know, Nicolette is keeping her husband busy with a blowjob… Later that night, Abigail thanks Alex by wearing her sexy lingerie. They fool around in bed until they realize Nicolette's watching from the doorway. Abigail's upset until Nicolette walks over and showcases her vibrating finger function. The couple can't help but enjoy their new Brazzibot to the fullest and their Brazzibot loves them too… or does she?