You can access our site through www.tapesxx.com. Please bookmark site. Press CTRL + D .Thank you!
You can access our site through www.tapesxx.com Please bookmark site. Thank you!

Naked And Fearless Part 1 / Luna Star, Jenna Starr / January 29, 2022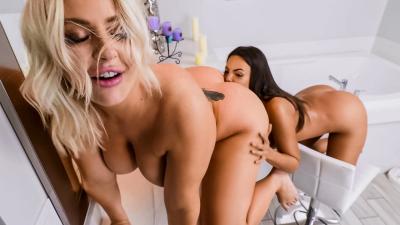 Porn sweetheart Luna Star just broke up with her husband. Things could be worse, though. Her best friend, the curvy Jenna Starr invited her over and lets her stay in her house for as long as Luna needs it. Make yourself at home says Jenna to her bestie, without considering that carefree Luna is an unapologetic nudist, who will take her clothes off for good as soon as she can. In PART 1, Jenna cheers up her bestie by having a sneaky intimate moment with her in the shower. After all, her nightshift working boyfriend's way too sleepy to have sex with Jenna, no matter how horny she is, and prefers taking a nap. The naughty girls fool around in the bathroom, until they get caught by the nosy boyfriend.