You can access our site through www.tapesxx.com. Please bookmark site. Press CTRL + D .Thank you!
You can access our site through www.tapesxx.com Please bookmark site. Thank you!

Luna Star: Seduce & Destroy Part 3 / Luna Star, Chris Diamond / Sep 8, 2023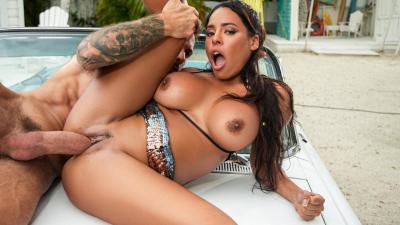 If you couldn't tell from her previous scenes, spy Luna Star handles her work… With a much more hands-on approach than normal. Other femme fatales may watch from a distance, let their crews cover and plan. But Luna? Luna likes to be in on the action. To get things done right. So it is no surprise when her transport, Chris Diamond, is forced to acquiesce to Luna's preference for a faster, sleeker vehicle. And faster, sluttier foreplay. Are you sure that's her engine purring? Or a growl from her throat as she swallows Chris's massive, throbbing cock. Because the only way to travel these days is in style, and Luna is a trendsetter all her own! That isn't to say a classic car doesn't have its uses… As the platform to fuck her juicy round ass. But at the end of the day this is just another pit stop to get devoured by Luna before being left in the dust. Yet Chris is left feeling somehow lucky that he got to feel Luna's ravenous sexual appetite after all...