You can access our site through www.tapesxx.com. Please bookmark site. Press CTRL + D .Thank you!
You can access our site through www.tapesxx.com Please bookmark site. Thank you!

The Kazumi Effect / Kazumi, Zac Wild, Donatello Devine / May 24, 2023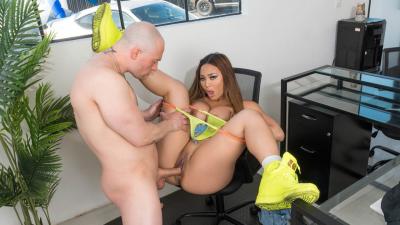 It's another big sale at the car dealership; the lot's packed, the inflatable man is waving, and Kazumi's throwing ass in between the cars — wait, WHAT was that last bit? When a casual car buyer (Donatello Devine) sees Kazumi's pussy, he starts a conversation before Kazumi blows him in the lot. Shes unhinged! When some standing doggie almost reveals them, they move their activities indoors, where Donatello passes Kazumi off to a trained professional — Zac Wild. Matching Kazumi's unchained energy, Zac's cock lays a thorough pounding on Kazumi's pussy, all around the office, utilizing all the office furniture for leverage. With so much action in the office, it's only a matter of time before customers from the lot grow suspicious, pounding on the door. Doesn't anyone sell cars here? A trained pro, Zac focuses on the task at hand, which in this case, is coating Kazumi's face with his cum at the cost of angry customers. Is there a term for the Kazumi effect in the employee manual?