You can access our site through www.tapesxx.com. Please bookmark site. Press CTRL + D .Thank you!
You can access our site through www.tapesxx.com Please bookmark site. Thank you!

Rejected Housewife / Aletta Ocean, Danny D / Feb 22, 2023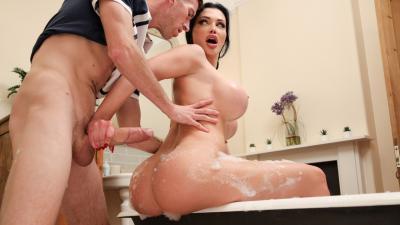 Aletta Ocean glams up in some sexy lingerie and wants some attention! When her deadbeat husband ignores her heaving tits, she draws herself a bubble bath, drops her panties, and texts some sudsy, raunchy pics to a friend (Danny D). Horny beyond belief, Danny heeds the call, crawling in through a bathroom window, right into the bathroom to stick his stiff cock down Aletta's throat. The couple keeps their foamy fuck-session secret, Danny slapping his cock on Aletta's tits while she polishes it clean. The deadbeat husband remains unaware, popping in and out of the bathroom while Danny slams in and out of Aletta's glistening pussy. Where does she spray her cum when Danny brings her to a roiling climax? You'll never guess.