You can access our site through www.tapesxx.com. Please bookmark site. Press CTRL + D .Thank you!
You can access our site through www.tapesxx.com Please bookmark site. Thank you!

Confessions Of A Free-User / Ana Foxxx, Ryan Reid, Scott Nails / Dec 17, 2022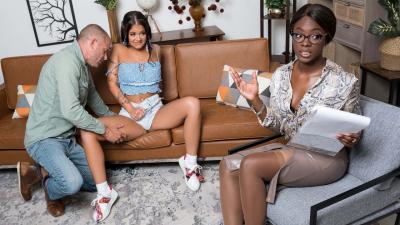 Horny sex therapist Ana Foxxx strokes her pussy in her office before her clients, Scott Nails and his sexy girlfriend Ryan Reid arrive. When Ana asks how they're doing, Ryan says she wishes their sex life was spicier. When Scott reveals that his kink is being ignored, Ana suggests Ryan ignore him. Scott is shy at first but after goading from Ana he pulls off Ryan's shorts and eats her pussy as she plays with her phone. Ana watches and can't help but touch herself again. Ryan tells Ana her desire: to kiss another woman! Ana obliges, kissing Ryan as Scott rubs his hard cock all over both women, free-using touching their tits as they both ignore him. Scott then fucks them on the couch until he shoots his hot load into both their mouths. When he leaves the room Ana tells Ryan to dump Scott…so she can have Ryan to herself!