You can access our site through www.tapesxx.com. Please bookmark site. Press CTRL + D .Thank you!
You can access our site through www.tapesxx.com Please bookmark site. Thank you!

Rachel Fucks Her Chauffeur / Rachel Starr, Duncan Saint / Nov 7, 2022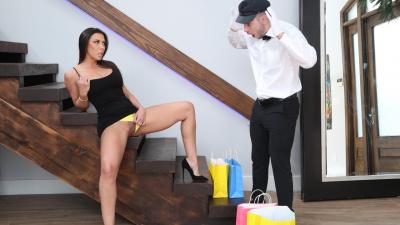 Rachel Starr is tired of two things: waiting for her driver to pick her up in the blistering heat, and men. When her car finally arrives after a long day of shopping, she's annoyed to see that it's not her usual driver who's come to get her but that it's Duncan Saint, her husband's regular chauffeur. Hot and bothered in all the wrong ways, Rachel gets in the car and has him take her home as she grills him about all the women her husband is fucking behind her back. When Duncan refuses to admit that her husband has been unfaithful, Rachel decides to change tactics and take a sexier approach. She spreads her legs on the backseat of Duncan's car and begins to rub her pussy and fingers herself all the way home. Knowing that the best revenge is one served hard and long, Rachel sets her sights on Duncan's cock. When he brings her bags inside, Duncan finds Rachel horny and waiting for him in her foyer. She gets him to eat her out before leading him upstairs to the bedroom. There, she sucks him off before letting him fuck her tight pussy everyway he wants. She rides him hard and fucks herself with his cock before letting him cum on her ass! Now that's what we call a five-star chauffeur!