You can access our site through www.tapesxx.com. Please bookmark site. Press CTRL + D .Thank you!
You can access our site through www.tapesxx.com Please bookmark site. Thank you!

Cumming At The Country Club / Phoenix Marie, Angel Youngs / Nov 2, 2022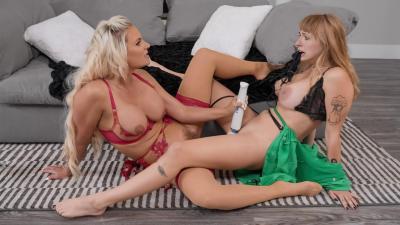 When Phoenix Marie decides to enjoy an afternoon at the country club, she doesn't expect to run into her frenemy, Angel Youngs. The two of them exchange not-so-pleasant pleasantries before Angel decides that what Phoenix's outfit really needs is a drink spilled all over it! Furious, Phoenix goes to the washroom to clean up and decompress, but Angel decides to follow her in to try and cause more trouble. (Un)fortunately for her, Phoenix decides that naughty girls deserve naughty punishments and decides to show Angel who's boss. She pushes her against the bathroom mirror and spanks her ass and pussy. Phoenix then gets Angel to give her fingers and feet a sloppy deepthroat, before making Angel cum again and again by eating, vibrating, and toying her pussy. Phoenix then decides that it's her turn for some fun and enjoys herself as she makes Angel worship her tits, eat her pussy and ass, before making Angel cum with her as they vibrate and scissor!