You can access our site through www.tapesxx.com. Please bookmark site. Press CTRL + D .Thank you!
You can access our site through www.tapesxx.com Please bookmark site. Thank you!

Ghost Swap / Emma Hix, LaSirena69, Xander Corvus / Oct 27, 2022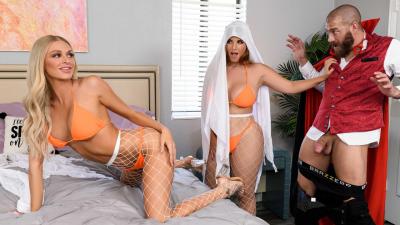 LaSirena69 is ready to pop her cherry with her boyfriend, Xander Corvus, and decides her spooktacular haunted Halloween party is just the place. Although Xander wants to get a little handsy in the kitchen and tries to grab her ass, LaSirena69 doesn't want anyone catching them fooling around. Dejected, Xander goes to the bathroom as Emma Hix shows up… dressed identically to his girlfriend. When Emma sees Xander she can't help but want to make his fantasies a reality and so, disguised as LaSirena69, she lets Xander rub her pussy and finger her in front of all their guests before leading him upstairs. Once they're alone, Emma lets Xander eat her out and fuck her from behind. Everything's going according to plan until LaSirena69 walks in on them and Xander realizes that he's been fucking her best friend this whole time! LaSirena69 decides to teach Emma a lesson and spanks her roughly before rubbing her pussy and sitting on Emma's face as the other woman eats her out. LaSirena69 and Emma then invite Xander to join in, who happily fucks them senseless before getting the treats he deserves: a blowjob from two hotties and getting to cum on both of them!