You can access our site through www.tapesxx.com. Please bookmark site. Press CTRL + D .Thank you!
You can access our site through www.tapesxx.com Please bookmark site. Thank you!

Slippery When Wet MILF Bangs Stepson / Uptown Jenny, Juan Loco / Sep 15, 2022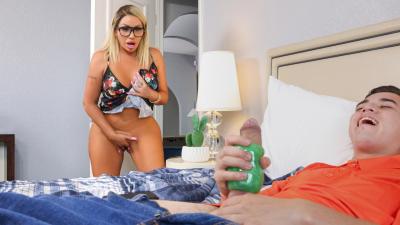 Uptown Jenny is tired of Juan Loco's jerky ways. She would have never moved in with her new hubby if she knew his adult son was such a dirty mess! When Juan stands off with her over some spilt milk, Jenny lets her hubby know that if he doesn't stand up to Juan, her booty will be on permanent lockdown. Jenny goes to the bedroom alone to prove her point, and to play with herself and her toy ribbed glove. Meanwhile in the next room Juan is rocking his cock rocket so hard he's shaking shit in Jenny's room! Pissed and horny, Jenny pervs on Juan and gets up close and personal with his cock right as he reaches blast off. Impressed with his load and his size, she decides the only way to deal with this dick is to fuck some sense into him.