You can access our site through www.tapesxx.com. Please bookmark site. Press CTRL + D .Thank you!
You can access our site through www.tapesxx.com Please bookmark site. Thank you!

Milk Tank Mixup / SlimThick Vic, Bunny Madison, Zac Wild / Aug 4, 2022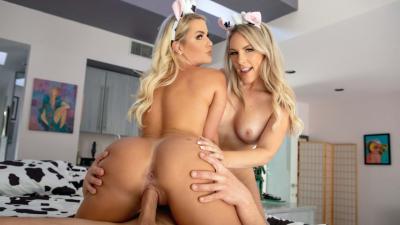 Curvy couple Bunny Madison and Slimthick Vic are into some… Interesting fetishes. They like to roleplay, explore different kinks, and are even into getting a little bit messy once in a while. And today they've decided to test out a little tongue-in-cheek cow inspired cosplay – cascading milk over each other's deliciously distracting curves in a lesdom body worship fantasy. Each droplet carving lines over perky tits and round butts… Liquid hugging every curve and soft thigh… But when their latest experiment gets rudely interrupted by roommate Zac Wild… Well, why not invite him in to join on the mayhem?! After all, three's a crowd and there might be more to play with than just some soft mommy milkers covered in white liquid!