You can access our site through www.tapesxx.com. Please bookmark site. Press CTRL + D .Thank you!
You can access our site through www.tapesxx.com Please bookmark site. Thank you!

Inked / Ava Austen, Danny D / June 20, 2022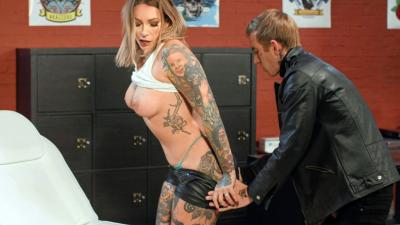 Hot and tatted MILF Ava Austen walks into the tattoo parlor, looking to get some new ink from artist Danny D. Danny appreciates the artwork on Ava's body and asks to get a better look at it…including the piece on her juicy ass! Ava's hesitant but gives him a peek, but upon looking at her potential artist she realizes that all of his tats are fake! Danny's just trying to fit in seeing how it's his first week on the job, so Ava offers to initiate him by giving him his first tattoo instead – on a spot nobody will see! She pulls down his pants, but when she sees how huge his cock is (and learns that it's very real!) she puts down the pen and grabs his dick, giving him a blowjob before having him fuck her, hoping the poseur artist can make her cum!