You can access our site through www.tapesxx.com. Please bookmark site. Press CTRL + D .Thank you!
You can access our site through www.tapesxx.com Please bookmark site. Thank you!

A to ZZ / Angela White, Mick Blue, Zac Wild / April 21, 2022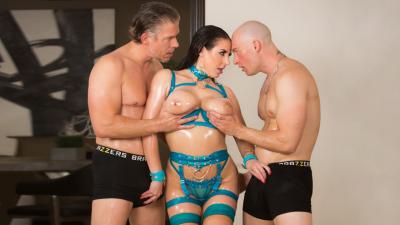 Angela White's body is so hot it should be illegal. No man or woman could resist the allure of those eyes, that devious twist of that smile, the natural curves, the strutting legs. From A to Z she is the peak of sexuality made manifest. And today Angela is absolutely glistening for maximum effect - liquid cascades over her body to make every inch soft, slick, and shining, ready to draw in Mick Blue and Zac Wilde. Because, ladies and gentlemen, AW on ZZ is performing a DP - double penetration! Not satisfied with one cock to drain, Angela needs more. One gripped by her wet pussy and the other squeezed between curvy ass cheeks as she moans for her two stunt cocks to go harder, faster. Today, Angela shows off how every part of her was made to seduce bodies and snatch souls!